INGLES: Bill Greaves, I'm interested in your personal journey of discovery with this project, the documentary on Ralph Bunche. You admitted in another interview that you, as an African American, didn't know as much about Ralph Bunche as you felt you should have known, when you began this process.
WILLIAM GREAVES, Film Producer, Ralph Bunche: An American Odyssey: That's quite true. I really didn't have too high of an opinion about Ralph Bunche, because I really didn't know anything about him.
INGLES: If you didn't have too high an opinion of him that must have been based on some undercurrent about him and his history right?
GREAVES: Yes, that's quite true. I felt, like so many people that I knew at the time, that he wasn't really a very effective person. He was just involved with a whole lot of white people who were not interested in the Black experience. It came to pass - as I did this research on him -that I came to realize that he was a very powerful thinker, a very complicated individual, who was a master in conflict resolution. Once he got into the United Nations organizations - and even before that - he chanced to become involved in the Universal Declaration of Human Rights, working closely with Eleanor Roosevelt, and getting the Declaration accepted - endorsed - by the United Nations, which is no small fete.
INGLES: He ended up going to Harvard for graduate school. Your documentary points out that Black civil rights leaders had their eyes on him, even when he was only about twenty-five years old, as a future leader.
GREAVES: In an interesting and curious way, he is a kind of a precursor to Barack Obama. Barack Obama is the closest thing, I think, to Ralph Bunche, as far as I'm concerned. Ralph Bunche was very much involved in these various initiatives. The thing that really bothered him all along, throughout his career - particularly in the early part of his career - was simply the fact that America, the American creed, was something that, even though it had all these lofty words that talked about freedom, democracy and liberty for all, the Bill of Rights and so on, he really thought that was all just so much air, small talk. He knew that it was important to put teeth in those words. "Freedom" and "Liberty for All" had to be words that were more than words. They had to be reality.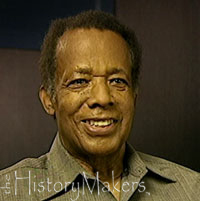 WILLIAM GREAVES
FILMMAKER